Gazpacho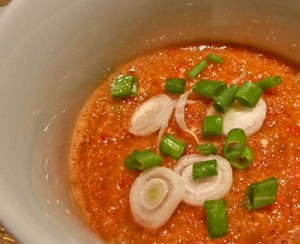 Gazpacho soup is perfect for the summer months. Refreshingly cold on hot summer days, this adaptation of the classic Spanish cold tomato soup deliciously combines the best of summer vegetables.   Make sure you only use the freshest, highest quality organic vegetables for this soup.
1/2 cup peeled and diced cucumbers
3/4 cup peeled and diced red and green bell peppers
3/4 cup diced onion
1 cup diced plum tomatoes
2 1/2 cup Vegetable broth
2 garlic cloves
1/4 teaspoon freshly ground pepper
1/4 teaspoon worcestershire sauce
2 Tbls fresh lemon juice
Chopped Chives or Scallion tops for garnish
Combine all the ingredients, except the chives or scallion tops into a blender and puree it. Poor the soup into a container, cover tightly, and refrigerate until cold.
Serve in chilled bowls and garnish with the chopped chives or scallion tops
Serves: 8