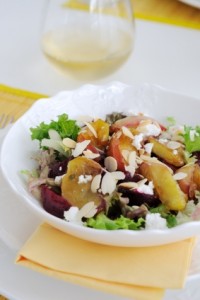 Preparation for Beets
Beets (whole) - 6-8
Olive oil - 1/4 cup
Salt & pepper - to taste
In a roasting pan, mix beets, oil, and salt & pepper all together. Cover roasting pan with foil and bake at 350 for 45-60 minutes. Once beets have cooled to room temperature the skins will peel off very easily. If not eaten right away they should be stored in the refrigerator.
Beets (peeled & cut  into 1 inch disks) - 3-4
Goat cheese (cut into 1 inch pieces) - 12oz
Walnuts (crushed) - 1 cup
Red Butter Lettuce (washed & Chopped) - 1 head
Balsamic vinegrette - 1/2 cup
Salt & pepper - to taste
In a bowl, mix lettuce and Balsamic vinegrette with a pinch of salt & pepper, then place on serving plate. Lay a beet slice on green mixture and place goat cheese disc over beet. Keep repeating as if you were making tomato mozzarella salad. Finally, top salad with walnuts and finish with Balsamic vinegrette and serve.