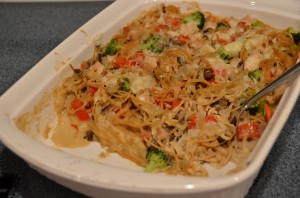 Here is another great recipe for turkey leftovers. This is a nice home-style casserole with lots of veggies. This recipe is from VeryBestBaking.
8 oz. dry whole-wheat spaghetti
2 1/2 cups chopped broccoli
1 red pepper, chopped
2 cups chopped mushrooms
1 small onion, chopped
2 tablespoons olive oil, divided
1/4 cup all-purpose flour
1/2 teaspoon garlic powder
1/4 teaspoon salt
1/4 teaspoon ground black pepper
1 can (14.5 fl. oz.) reduced sodium chicken broth
1 can (12 fl. oz.) evaporated lowfat 2% milk
3/4 cup (2.25 oz.) shredded Parmesan cheese, divided
2 cups cooked, chopped turkey breast meat
Preheat oven to 350° F. Lightly grease 13 x 9-inch baking dish.
Place the broccoli and a small amount of water in a microwave safe dish, cover and cook for approximately 2 minutes or until the broccoli is just slightly soft. Drain water and set aside.
In one tablespoon of the olive oil, cook in red pepper, mushrooms and onion in a medium skillet until the onion is soft and translucent. Set aside.
Prepare pasta according to package directions. Return pasta to cooking pot. Add all of the vegetables.
Meanwhile, heat the other tablespoon of olive oil in medium saucepan over medium heat. Stir in flour, garlic powder, salt and pepper; cook, stirring constantly, for 1 minute. Remove from heat; gradually stir in broth. Return to heat; bring to boil over medium heat, stirring constantly. Stir in evaporated milk and 1/2 cup cheese; cook over low heat until cheese melts. Remove from heat. Stir in turkey.
Pour cheese sauce over pasta and vegetables; mix lightly. Pour into prepared baking dish. Sprinkle with remaining 1/4 cup cheese.
Bake for 20 to 25 minutes or until lightly browned. Serve immediately.
Serves 10-12