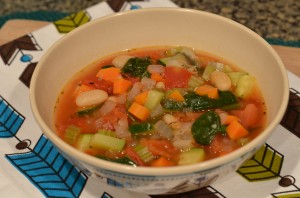 A nice and healthy vegetable soup to enjoy on a cold day. Adding leftover turkey would be a nice touch. This recipe is from USA Weekend.
One 15.5-ounce can cannellini or other small white beans, preferably low-sodium, drained and rinsed
1 Tb. olive oil
1/2  large onion, diced (about 1 cup)
1 medium carrot, diced (about ½ cup)
2 stalks celery, diced (about ½ cup)
1 small zucchini (about ½ pound), diced (about 1½ cups)
1 clove garlic, minced (about 1 tsp.)
1 Tb. chopped fresh thyme or 1 tsp. dried
2 tsps. chopped fresh sage or ½ tsp. dried
1/2  tsp. salt, plus more to taste
1/4  tsp. freshly ground black pepper, plus more to taste
4 cups low-sodium chicken or vegetable broth
One 14.5-ounce can no-salt-added diced tomatoes, with their juices
2 ounces baby spinach leaves (2 cups lightly packed), chopped
1/3 cup freshly grated 1/3 Parmesan cheese (optional
In a small bowl, mash half of the beans with a masher or the back of a spoon; set aside.
Heat the oil in a large soup pot over medium-high heat. Add the onion, carrot, celery, zucchini, garlic, thyme, sage, salt and pepper, and cook, stirring occasionally, until the vegetables are tender, about 5 minutes.
Add the broth and tomatoes and bring to a boil.
Add the mashed and whole beans and the spinach leaves; cook until the spinach is wilted, about 3 minutes more.
Serve topped with the Parmesan, if desired.
Serves 6