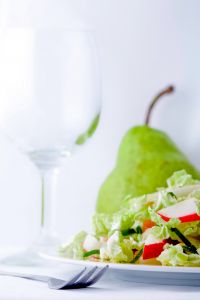 Red Leaf Lettuce (cut in 2in. pieces) - 1 head
Frisee (rough chop) - 1 head
Asian Pears (sliced) - 2
Almonds (sliced or chopped) - 1/2 cup
Blue cheese (crumbled) - 1/2 cup
Balsamic Vinaigrette - 1/2 cup
Salt & pepper - to taste
After lettuce is washed and cut, place in a large bowl. Add pears, almonds, bleu cheese, then pour dressing over the top and mix well. Taste a lettuce leaf, then adjust seasoning to your preference.