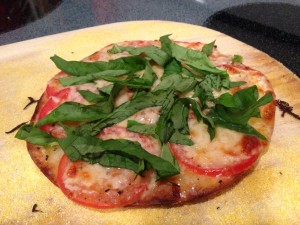 This is a fun and easy way to make crispy delicious pizza that's really quick. This recipe is the margherita version but you could use any combination of veggies and cheeses, or, I suppose, even meats. This recipe is by Jacques Pepin for Food and Wine Magazine.
Four 10-inch flour tortillas
Extra-virgin olive oil
1/4 cup freshly grated Parmigiano-Reggiano cheese
4 medium tomatoes (2 pounds)
Salt and freshly ground pepper
1 pound fresh mozzarella, preferably buffalo, shredded (4 cups)
1 cup finely shredded basil leaves
Set a pizza stone in the oven and preheat the oven to 475 degrees, allowing at least 45 minutes for the stone to heat.
Brush both sides of one tortilla with olive oil. Place the tortilla on a pizza peel that has been lightly sprinkled with corn meal and sprinkle with 1 tablespoon of the Parmigiano-Reggiano cheese.
Thinly slice 1 tomato; arrange on the tortilla. Season with salt and pepper and top with 1 cup of the mozzarella. Drizzle lightly with olive oil.
Slide the tortilla onto the hot pizza stone and bake for about 6-8 minutes, until the pizza is crisp on the bottom and the cheese is bubbling.
Garnish with 1/4 cup of the shredded basil, cut the pizza into 8 wedges and serve. Repeat with the remaining tortillas, tomatoes, cheeses and basil.
Makes four 10-inch pizzas