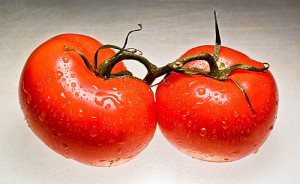 Heirloom or Roma tomatoes (sliced 1/2 inch) - 6
Fresh mozzarella (sliced 1/2 inch) - 6
Basil (sliced thin) - 8-12 leaves
Olive oil - 1 tbsp
Balsamic vinegar (reduced) – 1 tbsp
Salt & pepper - Chef's choice
Place tomato slice on a plate, lightly salt and pepper. Add some basil leaves then the Mozzarella slices. Repeat. When finished drizzle olive oil and balsamic reduction over, followed with more fresh basil.
Reduce the balsamic vinegar by applying heat. Place between 2 to 4 times the amount desired in a sauté pan. Bring vinegar to boil, stirring frequently. Continue stirring and turn heat down to medium. Take off heat when near desired consistency. Remember that vinegar will continue to reduce even after heat is removed. Cooking time is approximately 3-5 minutes.
CALORIES 137 (23% from fat); FAT 8.95 (sat 4.09g, mono 3.56g, poly .6g); IRON .67mg; CHOLESTEROL 22.4mg; CALCIUM 163mg; CARBOHYDRATE 7.87g; SODIUM 187mg; PROTEIN 7.89g; FIBER 2.2g
Source: http://az.naturesgardendelivered.com/recipes-t.php