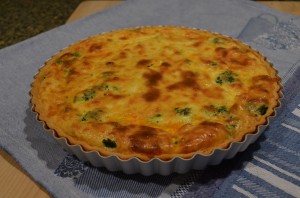 A quiche is great for a nice breakfast or a quick dinner. This one is from the cookbook The Savory Sweet Life.
One unbaked 9-inch piecrust
4 eggs
1 cup heavy cream
1 cup ricotta cheese
1 cup grated sharp cheddar cheese
½ teaspoon grated nutmeg
½ teaspoon kosher salt
1/2 teaspoon ground black pepper
2 cups fresh spinach, cooked, chopped, and all excess water squeezed out (in a pinch you can use a 16oz. bag of frozen)
Preheat the oven to 375 degrees. Spray a 9-inch pie plate or a 11-inch tart pan (with removable bottom) with nonstick spray.
Place the piecrust in the plate and gently pat it down around the base and sides. Crimp the outside edges of the crust or cut the excess off with a knife. Using a fork, poke several holes in the piecrust.
In a medium bowl, whisk the eggs, cream, ricotta, cheddar, nutmeg, salt and pepper until everything is well combined.
Evenly distribute the cooked spinach in the piecrust. Pour in the egg mixture, filling the plate up to 1/4 inch from the top.
Bake for 40 to 45 minutes, or until the center of the quiche is firm when pressed. Allow the quiche to cool for 5 to 10 minutes before serving.