The Art of Frozen Yogurt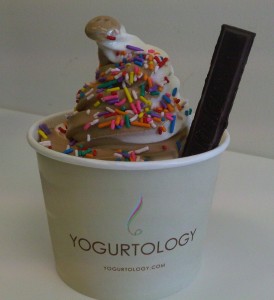 Sometimes it may seem a new Frozen Yogurt shop is opening up around the corner all over town, but only one brand has developed a sweet, cult-like following.  Yogurtology has broken the mold and coupled an impeccable, serenely vibrant interior and delicious frozen yogurt with taste that really delivers. 
Yogurtology has such a dedicated following that, even when things get chilly in Arizona, there is no shortage of patronage inside the bright, airy shop.  Upon arrival, you are greeted with a cheery hello and a friendly Yougurtologist will guide you while you create your very own froyo masterpiece.  Need an opportunity to sample before committing?  No problem, as you are offered the opportunity to sample away until you find your favorite flavor or combo.  Yogurtology offers daily flavors that are fat free, non-dairy and even some no sugar added options.  The best part is, whatever you choose, they are all low calorie!  Calories range between 78-179 for a four ounce serving, if you can defy the temptations of the topping bar. 
The flavors that Yogurtology have developed are incredible.  If the flavor signage reads Oatmeal Cookie, expect to be delighted when it tastes just like an Oatmeal Cookie.  The same is true for their Red Velvet, Lemon Meringue, Coconut and it goes on and on.  The all time customer favorite is Golden Cupcake Batter.  One taste and you will leave space for it in your roomy cup every time you come in.  Yogurtology pairs compatible flavors together in one machine so you can use the middle lever to swirl together a unique creation.  Chocolate Frosty swirled with Coconut becomes a delicious Mounds bar.   Root Beer and Classic Vanilla creates a refreshing Root Beer Float. 
Toppings are a delight to behold, and to cover your frozen yogurt with!  Feel like complementing your chosen flavors?  Add crushed graham cracker to your I Love NY Cheesecake or Coconut flakes to your Mounds combo swirl.  The toppings vary from the classic nut choices to the exotic like baklava or cream puffs.  Craving a jumbo pink marshmallow or dark chocolate Kit-Kats?  Yes, Yogurtology has that too!  The fruit options are always fresh, never from a can or frozen.  Top your creation off with a drizzle of chocolate syrup or the marshmallow crème that is cleverly disguised in a squeeze bottle labeled "Mayonnaise".
Hard packs of your favorite flavors are available to keep your freezer stocked and your taste buds pleased at all times.  Yogurtology has become a regular gathering place because people find they leave happier and with a bounce in their step. Their friendly staff takes the time to chat and get to know you which is a rare find these days.  Yogurtology even welcomes Fidos with their Dogurt, Yogurtology's frozen treat for your pooch.  The vision of Yogurtology extends beyond frozen yogurt and it has succeeded in creating a sense of community and a place to share with friends and loved ones.
Visit Yogurtology's website for locations, coupon details, nutritional information and hours.  Yogurtology is also coming to Fashion Square soon!
Newest locations to visit:
Kierland Village Center (Next to Safeway) 6501 E. Greenway Pkwy #150 Scottsdale, AZ 85254
Scottsdale Store (Next to Safeway) 10749 N. Scottsdale Rd #103 Scottsdale, AZ 85260