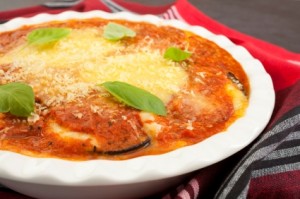 Eggplant (peeled & sliced into quarters) 4 ea
Roma tomatoes - 8-10 ea (Tomatoes blanched, shocked in ice, then peeled, then quartered)
Garlic (roasted) - 2 bulbs
Mozzarella (fresh balls, sliced) - 2-4 ea
Basil - handful
Eggs (beaten) - 4-5 ea
Flour - 2 cups
Salt & pepper - 2 tsp
Italian seasoning - 2 tsp
Onion salt - 1 tsp
Olive oil - 1 cup
Vegetable stock - 1 can
Mix flour, salt & pepper, Italian seasoning, onion salt into bowl. Dust eggplant with flour mixture, then submerge into egg mixture, then back in flour. Heat pan to medium-high, add oil. Cook eggplant until golden brown on each side and put aside. In a blender add tomatoes, garlic, vegetable stock, and basil. Blend well, in 8X12 baking pan pour a little tomato mixture into pan then layer eggplant, add tomato sauce, then sliced cheese. Repeat, cover with foil and bake @ 350 for 40 minutes, uncover foil at 30 minutes to let top layer of cheese melt. Let rest for ten minutes. Serve.
Hint: This dish always tastes better the next day.

Read the rest of this entry »