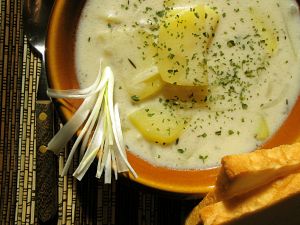 2 large turnips, peeled and chopped
1 large onion peeled and chopped
1 large potato, peeled and chopped
4 Tbl butter
1 Tbl of cornflour
34 ozĀ  of warm chicken stock (vegetable if preferred)
1 bay leaf
Freshly grated nutmeg
Salt and pepper to taste
3/4 cup half and half
1/4 cup Parmesan cheese, finely grated
In a large pan, melt butter over a medium heat. When froth disappears, add chopped turnips, onion and potato. Cook, stirring occasionally, for 5 to 7 minutes, until onion is tender and translucent but not golden. Using a slotted spoon, remove vegetables from pan; reserve. Away from heat, stir flour into remaining juices, until smooth. Slowly pour in chicken broth, stirring. Simmer for 3 minutes, until slightly thickened. Transfer reserved vegetables back into casserole; add bay leaf and sprinkle with nutmeg, salt and pepper. Lower heat; simmer for 20 to 30 minutes, until vegetables are soft, stirring occasionally. Remove from heat, discard bay leaf and puree soup mixture, a little at a time, into a blender. Pour puree back into the pan; return over low heat. Stir in cream; simmer soup for 4 minutes, until hot. Do not boil. Remove from heat; pour soup into 4 individual bowls. Sprinkle each bowl with a little finely grated Parmesan cheese and serve.
Serves: 4