Summer Linguine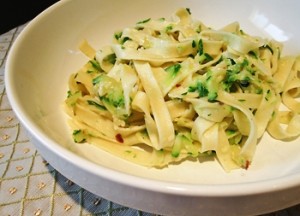 This is a great recipe hot or cold. It's one I took from Heidi Swanson's new book Super Natural Everyday: Well-loved Recipes from My Natural Foods Kitchen. She suggests a blend of whole wheat pastas or even spinach pasta to make it light and fresh.
2 medium-large zucchini or yellow summer squash, coarsely grated
Fine-grain sea salt
4 ounces whole wheat linguine or other thin pasta
4 ounces durum wheat linguine or other thin pasta
2 Tbls extra-virgin olive oil
1 large clove garlic, thinly sliced
1/2 tsp red pepper flakes
1 Tbls unsalted butter
1/2 cup grated Parmesan cheese, plus more to serve
Freshly ground black pepper
Put the zucchini in a colander, sprinkle with a few generous pinches of salt, and let sit over a bowl or in the sink for 10 minutes.
In the meantime, cook the pasta in separate pots or sequentially. Bring a large pot of water to a boil. Salt generously, add the linguine, and cook according to the package directions, or until al dente. Drain the pasta, reserving a little cooking water.
Just before you are ready to eat, heat the olive oil, garlic, and red pepper in a large skillet over medium heat for 1 to 2 minutes, until fragrant and the garlic just begins to brown. Squeeze the zucchini between your hands, over the sink, to eliminate any excess liquid and add to the skillet. Cook until tender, stirring frequently, about 2 minutes.
Add the pasta to the pan and add a little cooking water if the zucchini mixture seems on the dry side. Toss to distribute the zucchini throughout the pasta. Add the butter and cheese and toss again.
Season with salt and black pepper and divide among bowls. Top with more cheese if you like.
Serves 2 -4