Tempting Tempe Dining- Donna's Bakery Cafe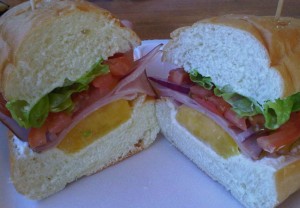 I recently had a conference to attend in Tempe and I was looking forward to trying out a new local place.  Not having had time to research prior, I found myself driving around at lunch time and finding my choices were limited to chains.  Even though some of those chains now use sea salt and have brown rice, it wasn't what I wanted.  Lucky for me, in between the Panda and the roller skating hamburger, I spotted Donna's Bakery Café. 
Nothing makes me happier than seeing a bakery sign, except actually walking into a bakery filled with the smell of baking bread.   Donna's Bakery Café bakes all their own bread and they're even a local supplier of baked goods to Asian supermarkets in town.  Pulling myself away from the all the tempting baked goods, I focused on ordering lunch to start.  They offer a daily $3.99 combo that includes a sandwich, chips and a fountain drink.  I ordered the combo of the day which was a turkey and cheese with crisp lettuce, tomato, red onion on soft, fresh baked wheat bread.  This was a generous sandwich and normally I would save half for later, but it was gone in a matter of minutes.  My co-worker ordered up the pulled BBQ pork sandwich on a fresh sandwich bun that he raved about.  I almost went to get a fork just so I could try it, but he took that sandwich out in 2 minutes flat. 
Choosing a dessert to go is very difficult.  Everything looks delicious.  Since Donna's Bakery Café is Asian, European and American influenced, there are so many options.  BBQ Pork Buns, Chocolate Mousse Cake, Cheese Danishes, it's all there waiting for you to decide.  My co-worker and I both picked up a loaf of bread and I also picked up a Cheese Danish and a Coconut Bun.  I also noticed a book with beautiful fresh fruit cakes and pastries that are available for catering and special events.
So if you find yourself near the NW corner of Kyrene and Elliot in Tempe, make sure you drop into this little gem.  They serve breakfast starting at 6:00 a.m. Monday thru Friday and 8:00 a.m. on Saturday and Sunday.  They are open until 7 p.m. Monday thru Saturday and until 5 p.m. on Saturday, so you have plenty of time to stock up on all that fresh bread.