Beet Risotto with Greens, Goat Cheese, and Walnuts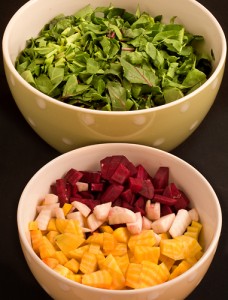 Before you saute the onion, toast the walnuts in the Dutch oven until they're fragrant. Cooking the beets along with the rice renders a beautiful burgundy color.
2 teaspoons olive oil
1 cup chopped onion
1 cup Arborio rice
1 tablespoon minced peeled fresh ginger
2 teaspoons finely chopped fresh rosemary
1/2 cup dry white wine
3 cups finely chopped peeled beets
1/2 cup water
1/4 teaspoon fine sea salt
1 (14 1/2-ounce) can vegetable broth
6 cups finely sliced Swiss chard
1/2 cup (2 ounces) crumbled goat cheese
1/4 cup chopped walnuts, toasted
Heat oil in a Dutch oven over medium-high heat. Add onion; saute 3 minutes. Add rice, giner, and rosemary; saute 1 minute. Add wine; cook 3 minutes or until liquid is nearly absorbed, stirring constantly.
Add beets, water, salt and broth; bring to boil. Cover, reduce heat, and simmer 20 minutes or until beets are tender, stirring occasionally.
Stir in chard; cook 5 minutes. Add cheese, stirring until blended. Sprinkle each serving with 1 tablespoon walnuts.
Serves 4
CALORIES 412 (30% from fat); FAT 13.7 (sat 4.9g, mono 4g, poly 3.6g); IRON 2.1mg; CHOLESTEROL 14mg; CALCIUM 92mg; CARBOHYDRATE 57.5g; SODIUM 611mg; PROTEIN 14.1g; FIBER 4.1g
Source: Cooking Light, December 2002