Bok Choy in a Spicy Peanut Sauce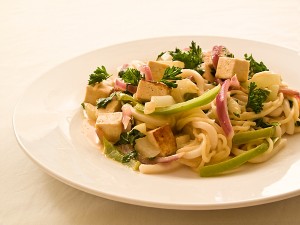 Here we use a spicy peanut sauce to jazz up an otherwise simple combination of tofu and vegetables. Complete the meal with a platter of red and green bell pepper strips, sliced cucumbers, and carrot sticks.
Spicy Peanut Sauce
1 1/2 teaspoon cornstarch
2/3 cup water
1/3 cup rice vinegar
1/3 cup unhomogenized smooth peanut butter
2 Tbl reduced -sodium soy sauce
1/4 teaspoon dark seasame oil
4 garlic cloves, minced
2 tsp sugar
1 tsp crushed red pepper flakes, or to taste
1  (16-ounce) package extrafirm tofu
1  tablespoon  olive oil
3 1/2  cups  thinly sliced bok choy
1  cup purple onion sliced
1/4  cup  sliced green pepper
4  cups  hot cooked soba (about 10 ounces uncooked buckwheat noodles)

For the sauce, combine the cornstarch and water in a saucepan and stir until the cornstarch is completely dissolved. Bring to a boil, reduce the heat, and stir constantly until thickened. Remove the pan from the heat and set aside to cool to room temperature. Combine the remaining ingredients in a blender and puree. Add the puree to the cooled cornstarch mixture and mix well with a whisk.
Cut tofu crosswise into 1/2-inch-thick slices. Place tofu between paper towels until barely moist. Cut slices crosswise into 1/2-inch cubes.
Heat oil in a large nonstick skillet over medium-high heat. Add tofu; sauté 5 minutes, browning on all sides. Add peanut sauce; cook 2 minutes, stirring occasionally. Add sliced bok choy, green pepper and onions; cook 3 minutes, stirring frequently. Remove from heat.
Place 1 cup noodles in each of 4 shallow bowls; top each serving with about 1 1/4 cups vegetable mixture
Yield: 4 servings
Calories: 444 (29% from fat) Fat: 14.4g (sat 2g,mono 5.2g,poly 3g) Protein: 20.7g Carbohydrate: 59.3g Fiber: 2.8g Cholesterol: 0.0mg

Iron: 4.4mg Sodium: 647mg Calcium:116mg