Garlic Soba Noodle Recipe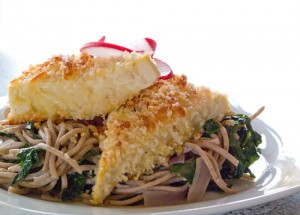 If you use powered garlic use a simple dehydrated garlic that has been ground. It has a harsher flavor than most fresh garlic you'll encounter, and the fragrance it puts off is different as well. Feel free to toss in a few fresh cloves (chopped) in its place if you prefer. In that scenario add the fresh garlic just before the chard.

8 ounces dried soba noodles
3/4 cup bread crumbs
1/4 cup Parmesan freshly grated
big pinch of salt
12 ounces extra firm organic tofu, cut into 6 rectangular slabs
2 eggs, lightly beaten
a generous splash of olive oil
1 bunch green onions, greens trimmed, thinly sliced
4 big handfuls of chard, spinach or kale - destemmed and cut into bite-sized pieces
1 teaspoon garlic powder
1/2 cup Parmesan, freshly grated
a few baby radishes, sliced paper thin
Boil a large pot of water and cook soba noodles per packet instructions or until just tender. I like to salt my water generously as I would other pasta. Drain and set aside.
While the water is coming to a boil, get the tofu started by combining the bread crumbs, Parmesan and salt in a shallow plate. Dunk each piece of tofu in the egg and the press into the bread crumbs. Make sure each piece is nicely coated with crumbs. Place each piece on a parchment-lined baking sheet and repeat with the remaining pieces. Bake in a 375 degree oven or pan-fry in a skillet in a bit of olive oil until both sides are golden, flipping once along the way. Slice into strips and set aside.
Add the olive oil (and bit of salt) to a large skillet over med-high heat. Stir in the green onions, chard, and cook for a minute until the chard collapses. Stir in the soba noodles. Stir in the garlic powder and Parmesan. Remove from heat. Sprinkle with sliced radishes. Serve family-style or on individual plates - each nest of noodles topped with some of the tofu slices.
Serves 4
CALORIES 500 (45% from fat); FAT 17.2 (sat 8.6g, mono 5.35g, poly 2.26g); IRON 3.37mg; CHOLESTEROL 134mg; CALCIUM 715mg; CARBOHYDRATE 58.3g; SODIUM 1191mg; PROTEIN 33.5g; FIBER 1.51g
Source:  www.101cookbooks.com