Green Pie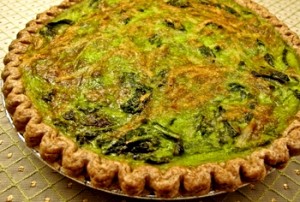 This is one on my favorite pies. We modified the recipe from www.101cookbooks.com Green Tart recipe. To make things a little more simple we bought our organic whole wheat crusts at Sprouts but you can use any of your favorite recipes for the crust.
Preheat the oven to 350F / 180C. Place a rack in the middle of the oven.
1/4 lb. / 4 oz  spinach greens, de-stemmed
1 bunch of basil
4 small clove of garlic
2 large eggs + 1 yolk
3/4 cup veg. broth
1/4 cup / 60 ml heavy cream
scant 1/4 teaspoon salt (more if broth unsalted)
gruyere cheese & a bit of crushed red pepper flakes, for topping
Chop the greens and garlic in a food processor. You can do this by hand as well, but in this case the processor makes quick work of this. Add the eggs and yolk, pulse. Then the broth and cream. Lastly, incorporate the salt and basil. When you're ready to bake, fill the tart shell and bake for 30 minutes or so, or until the center is set, and has firmed up to the touch. About 2/3 of the way through I like to sprinkle with a bit of gruyere cheese. Finish with a sprinkling of crushed red pepper flakes if you don't mind a bit of heat.