Rhino Caffe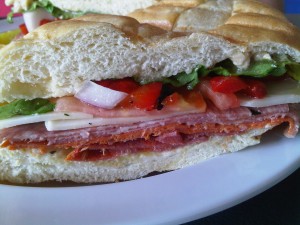 A vibrant new coffee shop café is creating quite a stir in the heart of Queen Creek.  The family-owned Rhino Caffe encompasses a coffee shop, ice cream parlor, deli, bakery and local artist gallery, all in one.  It's perfect for a quick bite or for business networking with large tables available, free wifi and lots of locally roasted coffee. 
Rhino Caffe specializes in using the freshest, local ingredients for creating appetizing  salad and sandwich selections such as the Italian Rhino ($6.99 full, $4.49 half) which features a trifecta of classic Italian meats served with roasted red peppers, lettuce/tomato and feta vinaigrette served on a baguette.  Lovely vegetarian options include the hummus and grilled pita ($4.99) or Caprese Baguette ($5.99 full, $3.99 half) with mozzarella, tomato, pesto balsamic/olive oil served on a baguette. 
Don't pass up the opportunity to have a fresh baked treat!  Rhino Caffe has their very own Pasty Chef who whips up decadent brownies, muffins and cookies.  The café features Blue Bell ice cream which you can enjoy in a Root Beer Float ($2.99) or on top of a warm chocolate chip cookie or brownie. 
For a jolt of caffeine, Rhino Caffe specializes in locally roasted coffee drinks that can be ordered hot or iced.  You can ask your barista to Rhino Charge any espresso drink for a free extra shot.  Espresso Fraps are custom made to order with real ice cream, espresso and milk or on the lighter side, fat free yogurt can be used.
Rhino Caffe has really created a place for people to gather socially, network or to just meet their neighbors.  On the fourth Saturday of every month the café hosts an Arts and Crafts Festival from 10 am - 2 pm that features local artists from around the valley as well as local musicians.  Seasonally, they have featured car shows and live bands on the weekends.  They have also started a Rhino Recycle program where you can turn in your used books, magazines and movies and get Rhino Credit good for anything in the café.
Take some time to drop into the creative laid back atmosphere that the Rhino Caffe has to offer.  You'll leave refreshed and energized to charge ahead and handle anything that may came your way.
The Rhino Caffe is located at 22721 S Ellsworth RD Queen Creek, AZ, 85142 and online at www.rhinocaffe.net. 
They are open Monday- Friday 6 am- 4 pm and Saturday- Sunday from 7 am- 3 pm.  They can be reached at 480-987-2140.