Tofu Curry Recipe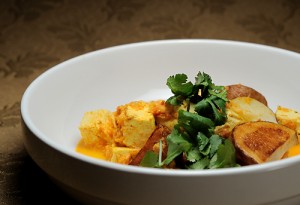 The curry has a bit of a kick to it - so if you're cooking for a spice -sensitive crowd, scale back a bit - and season to taste at the end.  You can either steam or roast the potatoes (oven at 375F) - both are slightly different approaches. You can also substitute the potatoes with yam or sweet potatoes. You can substitute tempeh for the tofu as well.
1 1/2 pounds small waxy potatoes no bigger than a small lime, halved
2 teaspoons fine -grain sea salt
1 tablespoon unsalted butter
2 tablespoon extra virgin olive oil
1 medium yellow onion, peeled and chopped
1 teaspoon whole cumin seeds
1 teaspoon curry powder
1/4 teaspoon turmeric
scant 1/2 teaspoon turmeric
1 cup canned diced tomatoes
3/4 cup water
splash of cream or a dollop of creme fraiche
8 oz tofu, cut into 3/4-inch pieces
a small handful of cilantro, loosely chopped
Bring a few inches of water to a boil in a large pot. Place the potatoes in a steamer , sprinkle with 1 teaspoon of salt and cook until tender throughout - about 20-30 minutes, depending on how large your potato pieces are. If roasting, line pan with a little olive oil and light brush oil on top for a nice golden brown.
In the meantime, in a large skillet, melt the butter in the olive oil, add the onion and cook over LOW heat until they are soft, about 5 minutes.  Stir in the cumin seeds, curry powder, turmeric, and cayenne pepper, wait about thirty seconds, then stir in the tomatoes, water, and the other teaspoon of salt. Remove from heat, stir in the cream and blend with a hand blender - (or leave it unpureed if you like!). Note: you might need to transfer it to a bowl to puree, then return it to the skillet.
Once the curry is back in the pan, add the tofu and bring barely to a simmer. Let the tofu cook for 5 minutes or so, then add the potatoes when they are finished steaming. Transfer to a large family-style bowl, and sprinkle with cilantro before serving.
Serves 4 - 6.
CALORIES 146 (54% from fat); FAT 9.52 (sat 2.72g, mono 4.66g, poly 1.64g); IRON 1.42mg; CHOLESTEROL 6.94mg; CALCIUM 132mg; CARBOHYDRATE 11.6g; SODIUM 15.2mg; PROTEIN 6.12; FIBER 2.2g
Source:  www.101cookbooks.com