Benedict's Café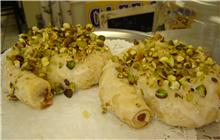 Tucked inside an unassuming street corner in North Phoenix is a true foodie haven.  Once you step inside Benedict's Café, you may wonder if you have been transported into a faraway French café.  The elegant décor and soothing music played can instantly take you far away from the stress of the day.

The immediate focus when you walk in the café is the mouth watering pastry case.  Some of the tempting choices include pistachio spirals filled with fresh pistachio filling, decadent chocolate chip cookies and melt in your mouth varieties of filled puff pastries.  Perched on top of the case is the elegant eye catching Sour Cream Coffee Cake, a rich and moist lightly marbled cake.  Benedict's Café also offers a unique house made creation of delicious crunchy granola bars using local chef Laura's Gourmet Granola.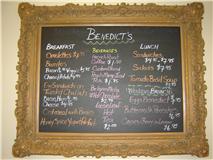 If you can take your eyes off the pastry case, take a look at the charmingly framed chalkboard that lays out the day's specials. Eggs Benedict is the starring house specialty and namesake for the café.  It starts with a homemade biscuit topped with poached local eggs, Canadian bacon and a bright Hollandaise sauce. Indulge in the French atmosphere and enjoy freshly made crepes. For lunch trade in your usual brown bag for options like a delightful tuna fish salad made with crunchy water chestnuts on artisan bread or go for a taste of the exotic with a Tropical Curry Chicken sandwich served on sourdough.
The Peach Mango Iced Tea has developed a cult following and is not to be missed as well as the custom blended French coffee from a local roaster. Benedict's Café always strives to use fresh, local ingredients from area producers of eggs, vegetables, dairy and beverages.  That philosophy is reflected throughout the entire menu.
The most charming aspect of Benedict's Café has to be the owner Dawn whose hospitality, creativity and thoughtfulness prevails in all aspects of the café.  Dawn takes great joy in making sure her ever increasing steady clientele is well attended to. Not only is Benedicts a great retreat during the day, they are also a full service catering company that will tailor a menu to your event.
Benedict's Café is open from Tuesday through Friday from 7 am to 3 am and Saturday- Sunday from 8 a.m. to 2 p.m. They are located at 5555 E. Bell Road Ste 6 Scottsdale, AZ 85254 (corner of Bell & 56th) www.benedictscaterers.com