Bok Choy Salad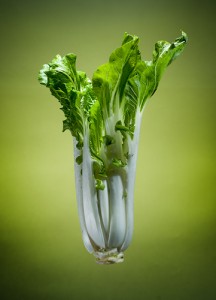 Crunchy bok choy is drizzled with sweetened soy vinaigrette and speckled with toasted almonds, sesame seeds and ramen noodles. I prefer the fresh ramon noodles. You can substitute the bok choy with nappa cabbage.

1/2 cup red wine vinegar
1/2 cup olive oil
1/2 cup white sugar
1 tablespoon soy sauce
1/4 cup butter
1/4 cup blanched slivered almonds
1/4 cup sesame seeds
2 (3  ounce) packages ramen noodles (chopped if fresh - crushed if dry package)
1 medium bok choy
3 green onions
In a small bowl whisk together the vinegar, oil, sugar and soy sauce, Set aside.
Melt the margarine over medium heat in a small skillet. Add the ramon noodles and sesame seeds. Saute until everything is golden brown. Remove from the heat and drain on a paper towel.
Chop the bok choy and green onions and add to a large bowl. Just before serving, sprinkle with the noodle mixture and dressing, and toss to coat.
Serves 8
CALORIES 321; FAT 24.3g (sat 6.07g, mono 13.8g, poly 3.29g); CHOLESTEROL 15.3mg; CALCIUM 119mg; CARBOHYDRATE 24.9g; SODIUM 498mg; PROTEIN 4.9g; FIBER 2.25g; IRON 2.19mg
Source: http://allrecipes.com/Recipe-Tools/Print/Recipe.aspx?RecipeID-24382&orgin=detail&serv…