Curry Noodle Bowl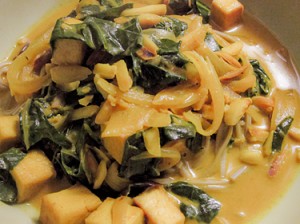 I added some fresh Chard to this recipe at the end to give it some color. You could get creative on adding seasonal vegetables to this recipe as it's very good base for peppers, spinach or whatever you have on hand.
8 ounces dried whole-grain Asian-style wide noodles
2 tablespoon coconut oil or clarified butter
2 cloves garlic, finely chopped
1 onion, chopped
11/2 teaspoon red curry paste
12 ounces extra-firm tofu, cut into thumb-size pieces
1 (14 oz) can of coconut mile
2 cups vegetable stock
2 tsp ground turmeric
2 Tbls soy sauce
1 Tbls natural cane sugar
Juice of 1 lime
2/3 cup peanuts or almonds
1/3 cup shallots
1/3 cup chopped fresh cilantro
Cook the noodles in plenty of boiling salted water until just tender. Drain and set aside.
You can start making the curry noodles cook. Heat the coconut oil in a large saucepan over medium-high heat, then stir in the garlic, onion, and curry paste and mash the paste around the bottom of the pan a bit to distribute it evenly. Cook until nice and fragrant - just a minute or two. Add the tofu and gently stir until coated with the curry paste. Stir in the coconut milk, stock, turmeric, shoyu, and sugar, bring to a simmer gently for 5 minutes. Remove from the heat, stir in the lime juice, and add the noodles, jostling them around a bit if they're sticking together.
To serve, heap a big pile of noodles into individual bowls and top with a generous ladle or two of the curry. Top with peanuts or almonds and finish each bowl with a sprinkling of shallots and cilantro.
Serves 4 to 6
Source: www.101cookbooks.com