Deseo - Westin Kierland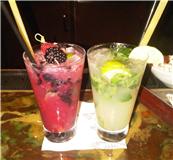 Deseo - the desire to enjoy phenomenal Nuevo Latino Cuisine and hand crafted cocktails in a lively setting.  From the moment you begin the descent on the staircase colorfully lined with large luminary candles, you begin to anticipate the spicy flair that Deseo has to offer.  Whether you are looking for a cozy place to catch up with friends or a front row seat to watch the action in the kitchen, Deseo has the perfect spot for you.
Stepping first into the Muddle Bar, with its rich colors and sleek, dark woods, you'll find a cozy and elegant place to enjoy some of Deseo's Signature Mojitos.  Each Mojito is hand muddled, with fresh mint and limes, to really bring out the flavors of the ingredients.  A custom menu is available so you can select your favorite fruits and liquor and create your own signature cocktail. Sip that cocktail while you watch live painting by Nelson Garcia-Miranda, a renowned Cuban painter, whose painting style meshes perfectly with the upbeat and colorful Latin flavor of Deseo.
After you enjoy a Mojito or two, take a seat at The Rail, Deseo's twelve best seats in the house. You'll have a firsthand view to enjoy the fiery action in the open kitchen.  Chef Douglas Rodriquez, a James Beard award winner, is widely regarded as the inventor of Nuevo Latino Cuisine.  Chef Rodriguez, as well as Chef de Cuisine Roberto Madrid, have created a boldly flavored and passionate menu.  This menu includes fabulous ceviches created from fresh ingredients such as lobster, scallops, octopus and ahi tuna.  Seasonal, locally grown produce and native style recipes take precedence at Deseo.  For an appetizer, savor a Squash Blossom and Tetilla cheese Quesadilla or Organic Chicken Posole.  Entrees include options like Merluza Sea Bass and Fideo with vegetable estofado.  Another unique choice is Adobo Pork y Tlacoyo, a chile marinated korobuta tenderloin served with a pork and bean corn empanada.  Delicious additions can join your entrée like the Calabazitas con Queso, green and yellow squash with Oaxaca cheese or Alcachofa y Romesco, roasted artichoke with Spanish tomato and pepita romesco.
Deseo is the perfect place to relax and unwind with friends, capture the excitement of an open kitchen or have an intimate dinner.  Take the time to sip, savor and delight in the flavors of Deseo!
Deseo is open for dinner Wednesday through Sunday from 6-10 p.m.  Enjoy the Unwind event Wednesday through Sunday from 5:30- 7:30 p.m. in the Muddle Bar and watch Nelson Garcia - Miranda create his masterpieces. Deseo is located at the Westin Kierland Resort and Spa 6902 E. Greenway Parkway, Scottsdale, AZ 85254.  For reservations, please call 480-624-1202.