Moo-Shu Wraps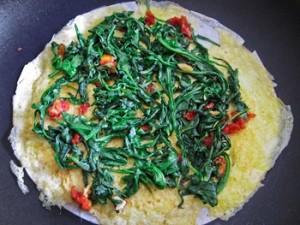 I took this recipe idea from www.101cookbooks.com and modified it after a trip to the local Chinese Cultural Center where I found Moo-Shu shells.  I modified it a little based on what I had on hand.
a generous dollop of creme fraiche, sour cream or Greek yogurt
2 Tbls of goat cheese
2 garlic cloves, chopped
2 cups of arugula, spinach or kale
2 Tbls of sun dried tomatoes, chopped
small splash of olive oil
1 small egg
1 Moo Shu Shell
Whisk the goat cheese and yogurt together in a small bowl. Set aside.
Now, take the arugula, rinse the leaves, pat them dry with a paper towel, and saute them with the sun dried tomatoes and garlic over medium-high heat in a small splash of oil until lightly sauted. Remove from pan and set aside.
Beat the egg and a pinch of salt in a small bowl. Beat the egg really well, so it's uniform in color.
In your smallest skillet, over medium heat, add a tiny splash of oil. Let it heat, then add the egg to the pan let it set for just 10-15 seconds. Place the Moo-Shu shell on top of the egg, the top of the egg should still be a bit runny, so it should attach itself to the Moo Shu shell as it sets. When you feel like the egg has set enough not to run, flip everything. Spread the arugula and yogurt mix over the top. Cook until it  is heated and the shell is nicely browned.
Fold the Moo Shu Shell in half, and cut in halves.
Serves 1.