Roasted Carrots and Potato Chips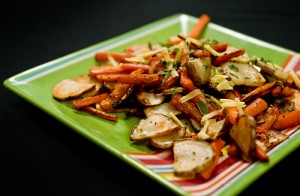 This is a great snack for a movie or any get together in place of store bought chips or snacks.
A bag of organic carrots
4-5 potatoes - thinly sliced
extra virgin olive oil
sea salt
1/4 cup Irish Cheddar Sharp Cheese
Heat oven to 375.
Cut carrots into nice carrot sticks and the potatoes very thin. Line a cookie sheet with aluminum foil and brush on some olive oil. Put the potato chips down flat to roast and the carrot sticks flat on the pan. Drizzle with olive oil and grind sea salt on top. Bake for about 30 minutes until golden brown. Add the sharp cheddar to the top for garnish.
Serves - 4
CALORIES 173 (13% from fat); FAT 5.1 (sat 3.04g, mono 1.35g, poly .33g); IRON 1.11mg; CHOLESTEROL 14.9mg; CALCIUM 150mg; CARBOHYDRATE 27.3g; SODIUM 180mg; PROTEIN 6.45g; FIBERÂ  4.88g