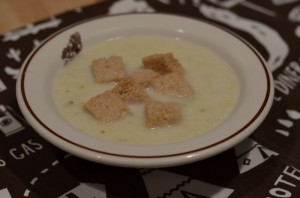 And we all settled in for a nice winter's lunch…. This recipe is from St. Francis restaurant in Phoenix.
2 tablespoons butter
2 large leeks (chopped into large chunks)
1 large onion, large dice
Salt to taste
1 large head cauliflower, separated into florets (discard core) and rough chopped
Water
1 cup cream
1 teaspoon fresh thyme, fresh, leaves picked
2 dashes Tabasco
Salt to taste
Cracked pepper to taste
1 lemon juiced, to taste
Sweat onion and leek in butter for 8-10 minutes. Season with salt.
Add cauliflower, and water to cover. Add thyme and cream. Cook until cauliflower smashes against side of pan about 15-20 minutes.
Puree, and you can pass through strainer if desired.
Add Tabasco and lemon juice. Season with salt and pepper.
Ideas for garnish:
Capers, re-hydrated golden raisins
Caper raisin emulsion
Three colored cauliflower small florets, blanched
Chives
Croutons
Serves 8