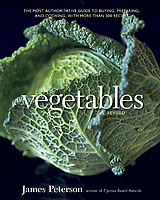 For those who love vegetables, this cookbook, Vegetables Revised, is very helpful. It gives great information on buying, storing and preparing vegetables.
The chapters in this cookbook will help you from start to finish on preparing a multitude of vegetables. There are chapters covering:
Knife Skills
Methods of Cooking
Making Salads
Making Gratins and Casseroles
Making Stews
Making Soups
Making Pasta, Gnocchi, and Risottos
Making Pureed Vegetables
Following these informative chapters are the recipes and tips for every vegetable you can imagine from A to Z. There are many images that show technique and final prepared dishes.
Below is a great Guacamole recipe from the cookbook:
Guacamole
3 medium tomatoes, peeled (optional), seeded, and coarsely chopped
2 teaspoons salt, plus more to taste
4 ripe avocados, preferably Haas
Juice of 1 lime
2 chipotle chiles in adobo sauce, rinsed, or 2 jalapenos, stemmed, seeded, and minced
2 cloves garlic, minced and crushed to a paste
1 medium red onion, minced
2 tablespoons finely chopped fresh cilantro
Freshly ground black pepper
Toss the tomatoes with the salt and pour into a strainer. Let the tomatoes drain for 30 minutes.
Peel the avocados and chop them into chunks roughly 1/4 inch on each side. Toss the chopped avocados with the lime juice and the chiles. Stir the garlic, onion, drained tomatoes, and cilantro into the avocados. Season to taste with salt and pepper. Serve at Room temperature.
Makes 8 to 10 appetizer servings