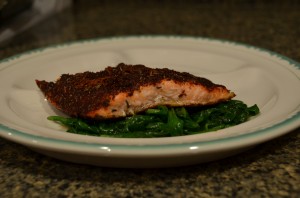 Citrus flavored fish with fresh spinach is a great light meal. This recipe is from Epicurious.
1/4 cup fresh squeezed orange juice
2tbs + 1tsp olive oil
2tsp thyme leaves, divided
2lbs salmon (or steel head trout) fillets
1tbs brown sugar
1tbs smoked paprika
1tsp cinnamon
1tsp grated orange peel
1/2 tsp sea salt
1 10oz bag fresh spinach
Mix orange juice, 2tbs oil and 1tsp thyme in small bowl. Place salmon in large glass dish, add marinade and coat. Cover and refrigerate 30 minutes or more.
Mix brown sugar, paprika, cinnamon, orange peel, remaining thyme and sea salt in small bowl. Remove salmon from marinade. Place in a greased foil-lined baking pan. Discard remaining marinade. Rub top of salmon evenly with smoked paprika mixture. Roast salmon in 400 degree oven 10-15 minutes or until fish flakes easily with fork.
Meanwhile, heat remaining oil in large skillet on medium heat. Add spinach, cook and stir 2 minutes or until wilted. Serve salmon over spinach.