Nature's Garden Vegetable Soup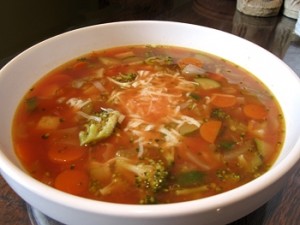 This is a great basic vegetable soup. Get creative -  add some pasta, crusty bread or cheese to it to give it a different punch.
2 Tbl Olive Oil
stalk of celery
Bag of Carrots
2 cups poatos
2 cups broccoli
2 cups zucchini
1 16 oz of tomato paste
10 cups of Vegetable broth
2 14oz cans of White Kidney beans
5 garlic cloves - crushed
Salt and Pepper to taste
In your largest thick-bottomed pot over medium heat combine the olive oil, celery, garlic, carrot, potato and onion. Cook for 10 -15 minutes sweating the vegetables, but avoid any browning.   Add the 10 cups of vegetable broth along with the can of tomato paste  and two cans of beans. Bring to a boil, reduce the heat, and add the zucchini and broccoli simmer until the greens are tender, about 15 minutes.
Serve immediately, or cool and refrigerate overnight. Finish each serving with a drizzle of olive oil and some chopped olives or some Parmesan cheese.
Prep time: 20min - Cook time: 60 min
Serves: 10