Tomato Pesto Olive Tart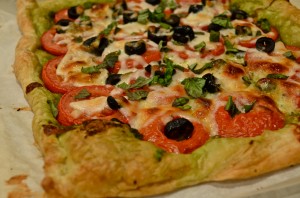 This is a quick and easy tart that can be used for an appetizer or main course (great with a salad). It's from the cookbook Savory Sweet Life.
1 sheet frozen puff pastry, thawed
1/4 cup basil pesto
3-4 roma tomatoes, sliced ¼ inch thick
Salt and freshly ground pepper
1/4 cup chopped kalamata olives
2 tablespoons chopped fresh basil
Shredded mozzarella cheese (optional)
Preheat the oven to 400 degrees F. Line a baking sheet with parchment paper.
Unfold and roll the puff pastry sheet into a 12inch square on top of the baking sheet. Make a rim by folding the edges of the pastry square in 1/2 inch and pressing them down gently. Using a fork, poke holes all over the pastry.
Spread the pesto evenly over the pastry (avoiding the rim), using a pastry brush or the back of a spoon. Arrange the tomato slices in a single layer over the entire square, within the rim. Season the tomatoes lightly with salt and pepper, and sprinkle the chopped olives over them. Then sprinkle with the mozzarella cheese if desired.
Bake for 20 to 25 minutes, or until the pastry is golden brown. Sprinkle with the basil before serving.
Serves 6 to 8 as an appetizer