Cucumber-and-Radish Stir-Fry with Rice Noodles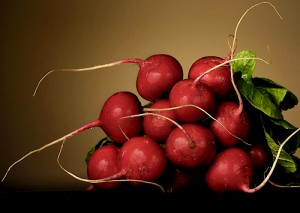 7 ounces dried rice noodles
1 tablespoon canola oil
1 cup thinly sliced radishes
1 large cucumber, halved lengthwise, seeded and thinly sliced
3/4 teaspoon salt, divided
1/4 cup hoisin sauce
2 tablespoons low-sodium soy sauce
1/4 teaspoons ground cayenne pepper
7 cups trimmed watercress (about 3 bunches)
1 cup (6 ounces) extra-firm tofu, drained and cut into 1/2-inch cubes
1 teaspoon toasted sesame oil
1 teaspoon sesame seeds, toasted
Prepare noodles according to package directions. Drain well.
While noodles soak, heat canola oil in a large nonstick skillet over medium-high heat. Add radish and cucumber; saute 1 minute, or until tender. Stir in 1/2 teaspoon salt, the next 3 ingredients, and the noodles. Saute 1 minute.
Combine noodle mixture and watercress. Wipe skillet clean with paper towels. Sprinkle tofu with the remaining 1/4 teaspoon salt. Heat the sesame oil in the skillet over medium-high heat. Add tofu, and saute 2 minutes. Serve the tofu over the noodle mixture. Sprinkle with sesame seeds.
Serves 4
CALORIES 311; FAT 7g (sat 1g, mono 2g, poly 3g); CHOLESTEROL 0.0mg; CALCIUM 119mg; CARBOHYDRATE 54g; SODIUM 1025mg; PROTEIN 9g; FIBER 3g; IRON 3mg